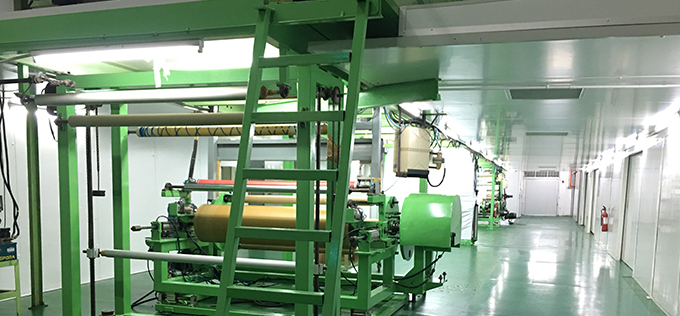 PRODUCTION
Adtech Malaysia protective tapes are manufactured under state-of-the-art facilities featuring advanced technologies with the capability of on-line printing. We specializes in coating Polyethylene Film with acylic adhesive for coating with adhesive ranging from 15 gm to 700 gm.
Our tapes are produced under clean facilities to minimize dust and other contaminants.
QUALITY
CONTROL
All our tapes are consistently tested for their adhesive strength. They are tested during the on-line run and after the aging process. This is to ensure quality products are being delivered to our customers.
LABARATORY
FACILITIES

RHEOMETER
| | |
| --- | --- |
| Model | Auto Paer Physica Rheolab QC Immersion |
| Function | Test viscosity and consistency of adhesive |

ADHESIVE STRENGTH TESTER
| | |
| --- | --- |
| Model | Chattilion (USA) Motorized Tensile Machine LTCM-100 |
| Software | Chattilion (USA) Nexgen Gauge Software |
| Testing Method | 90° or 180° (2B Stainless Steel Surface) 300mm/min |
| Function | To check for adhesive |
OVEN
| | |
| --- | --- |
| Model | Laboratory Oven |
| Function | To test our PE tapes at elevated temperature, to determine it stability |
THICKNESS GAUGE
| | |
| --- | --- |
| Model | Mitutoyo-Dial Thickness Gauge |
| Function | To check for film thickness |
COMPACT SCALE
| | |
| --- | --- |
| Model | FEJ-3000D |
| Function | To check glue weight |